On December 2, Faculty of Mechatronics and Electronics, LHU solemnly celebrated the 25th anniversary (1997 – 2022) of its establishment. Attending the anniversary were Faculty leaders, lecturers, staff, 19 enterprises, 50 alumni and more than 200 students with good achievements. The ceremony also saw the presence of Dr. Lam Thanh Hien - Rector and Assoc. Prof. Dr. Nguyen Vu Quynh - Vice Rector.
Alumni giving flowers to show gratitude to LHU and Faculty leaders
As one of the first faculties at LHU, the Faculty of Mechatronics and Electronics has overcome many difficulties to achieve numerous successes in the fields of education, research, science and technology competitions, business partnership, ... Currently, the Faculty offers four undergraduate training programs including Automotive Engineering Technology, Mechatronic Engineering Technology, Control and Automation Engineering Technology, Electrical and Electronics Engineering Technology. In particular, the Faculty has one training program: Electrical and Electronics Engineering Technology meeting the AUN-QA standard. Also, this program has recently completed the assessment of ABET standards.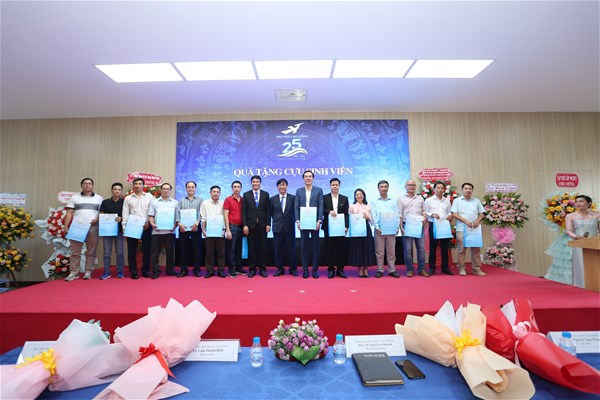 The University Management Board gave souvenirs to alumni who have been with the Faculty for many years
At the ceremony, all the participants looked back at the Faculty's process of construction and development, national and international achievements made by student generations through images and videos. These achievements mark and leave each generation pride on the University named Lac Hong.
Difficult students received scholarships on the occasion of the 25th anniversary
On this occasion, 19 businesses and alumni awarded scholarships to difficult students and hoped that next student generations would gain more achievements in the Engineering field.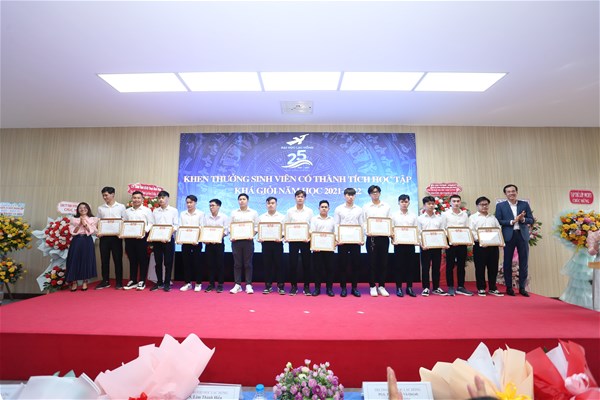 Also at the ceremony, the Faculty awarded certificates of merit to more than 200 students for their good and excellent achievements in the 2021-2022 academic year.